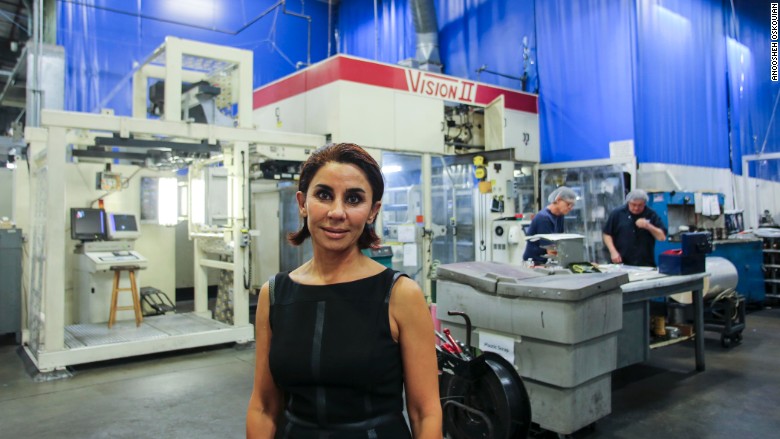 May 5, 2016 11:10 am
Experience Speaks Interview with Anoosheh Oskouian & Print, Film & Foil Converter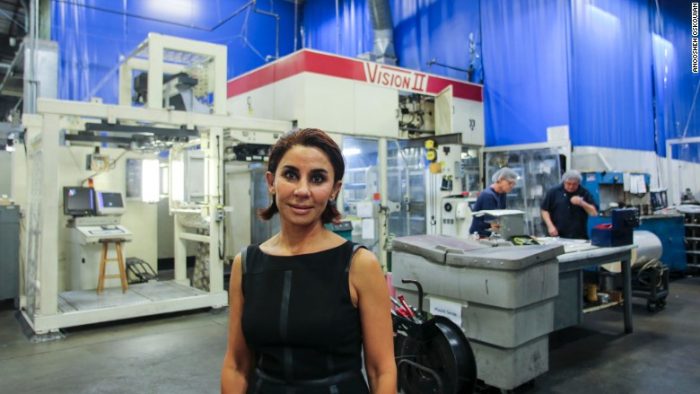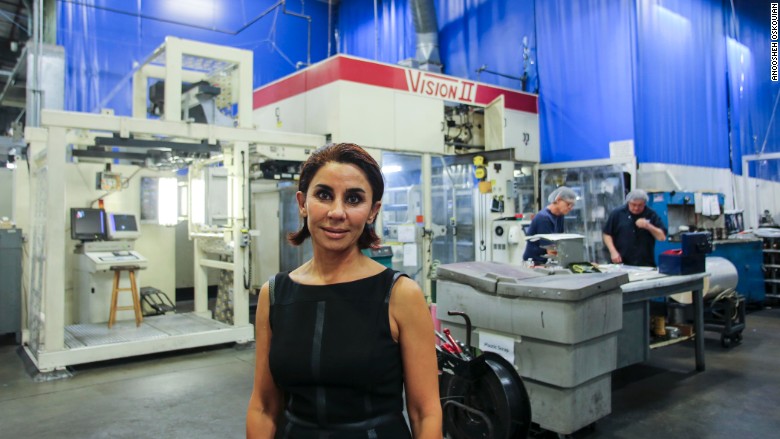 Recent Q & A with PFFC Paper Film & Foil Converter with Ship & Shore CEO, Anoosheh Oskouian…

How did you get into the converting business? We were involved with a client who introduced us to CEFCA, which is today the WPA (Western Plastics Assn.), where I served as a board member that helped with reviewing environmental rules and regulations.
How would you describe your management style? I believe in giving the Ship & Shore team tasks, training, and responsibilities that deepen their experience and skills and empower them to live and work to their highest potential.
What is your key to retaining good employees? Are there specific challenges in your region to finding and keeping good employees? Just like the key to any good relationship, my philosophy is simple. It starts with trust, respect, and an open communication policy. Yes, it is difficult to find qualified employees due to the decline in technical education and specializations we need.
What is the key to growing a business in a bad economy? Over the years, even the most challenging, we have continued to invest in training that allows us to streamline, stay lean, and control growth based on demand and diversifying into new innovative industries.
What is the biggest threat to the converting industry right now? Importers who are not held to the same standards or environmental rules and regulations as the ones we comply with in the U.S.
To what associations does your company belong? Is there one that is particularly helpful to your business and why? We are involved in many associations, but for our specific industry, the WPA (Western Plastics Assn.), FTA (Flexographic Technical Assn.), FPA (Flexible Packaging Assn.) and SPI, (Society of Plastics Industries). We value our relationships with all associations and have found the FTA and FPA have provided the opportunity to not only serve as a resource but also have direct connections with end-users who need environmental services and support the most.
How do you handle a difficult customer? Our goal is to provide solutions not just in the short term but for future needs as well. With "difficult" customers, I have found it is often necessary to take a step back, learn more about their business, and listen to what their goals are. Then, I am direct and upfront as to how we can be a part of the solution, not the problem.
What keeps you up at night with regard to your business? The environmental business is ever changing and very competitive. Top of mind is always staying true to our mission, our customers, and completing one successful project after another. In addition, we always address each project in innovative ways. From a personal perspective I also have to think about Ship & Shore's growth and doing it in a controlled way. We gain our competitive edge by exploring emerging industries and making new technological advances with the help of our skilled engineering team.
What do you know now that you wish you had known when you started out in business? I know to carefully evaluate opportunities and risks and to do our due diligence on whom and what we invest in along the way.
Are there any management or business books that have influenced you? I am constantly reading and participate in personal and professional development training. I apply Lean Management Training and Value Stream Mapping to improve the efficiency of each person throughout our organization.
What is the biggest mistake you made in business and how did you fix it?Mistakes are learning opportunities. In the past, I made decisions without doing proper due diligence or following my instincts when it came to investing in people and opportunities. These mistakes have led to implementing stronger systems and management to create a trusted and innovative environment where we are all working towards the same goal.
What do you enjoy most about your job? Ship & Shore keeps me very busy in all aspects of the business but I have always truly enjoyed meeting people, customers, vendors, and peers in the industry. I am passionate about seeing each and every project through to the end, seeing satisfied customers, and knowing the good we are doing for the environment.
What do you enjoy least about your job? Ship & Shore has grown tremendously over the last 10 years, from 10 employees to 50. Managing demands has also increased so that administrative tasks, meeting daily needs, deadlines, and goals of each department can at times be overwhelming.
What was the best advice you ever got? I was lucky to have my parents. My dad always encouraged me to go into business for myself, and my mom said, "Don't ever let anyone think less of you because you are a woman!" Two pieces of advice I have never forgotten or taken lightly and feel they have definitely supported my strength and success in this industry.
What was the worst advice you ever got? I choose carefully what advice to follow and take responsibility for the choice from there, even when it didn't work out well. I have very few regrets, as I have realized every decision, however challenging, has led to growth and learning to delegate and trust others as well deepen trust in my experience and instincts.
What advice would you give to someone starting out in this business? Take time to develop your skill and instincts and then trust them.
What are you most proud of in your business? Although Ship and Shore is not technically family, it feels that way as many of us have known each other and worked together for 25-plus years. People are the key to running a successful business. I love the idea of all of us working together towards the same goal, seeing the results of our work and the impact on the environment by providing environmental solutions to manufacturers. Doing the right thing is not always easiest, or even the most economical, and that requires us to have integrity and think outside the box every day. I am proud of the team I have assembled. We work together daily to accomplish all that we have so far.
Do you have a personal hero? I like to think of this a bit differently. Rather than pointing to one person or event, truly taking the good from all encounters and all walks of life has shaped me. You can meet a hero every day if you are willing and open. I try to learn from every experience and everyone I meet and although it may not make the news, most pivotal moments are a collection of small acts and lessons.
Any hobbies or outside interests you care to talk about? Personally I love skiing, outdoors, exercise, and classical music. I also involve myself in philanthropic causes that truly move me, in which I feel I can make a difference in the lives of others. That has been very rewarding.
Do you have a personal motto or mantra by which you live life or do business? The golden rule, I believe is, what goes around comes around. I treat people and situations as I would hope to be treated. It has always served me well.
What does your company do for your customers that makes them come back to enjoy the experience of doing business with you again? Environmental solutions for manufacturers have so many considerations, from being highly technical to compliance issues with state and local agencies, as well as financial and business considerations. Ship & Shore provides services that go above and beyond the scope of equipment needed to meet and consider all these issues our clients face. Our aim is to be a long-term environmental partner and technical resource, so not only to provide necessary equipment but to do it in a way that supports our clients for years to come.
What do you feel are the key qualities necessary to be a successful leader?Surrounding yourself with intelligent people who you believe in and are working with you towards the same goal. There are no short cuts to success, do the work, do it with integrity, and learn to innovate from all obstacles and challenges.
What, if any, sustainability efforts has your company made? We are continually reviewing all processes, undergoing training and operations to reduce waste, implement recycling, green technologies, reducing energy consumption, as well as streamlining processes to have sustainable environmental and business practices.
What was the funniest experience you witnessed on the shop floor (or in the office) from which you gained the most valuable lesson? While attending a trade event, I witnessed a man getting pulled out of piece of demo equipment. In an attempt to copy the technology he was found inside with a video camera. His camera was taken away, the footage was destroyed, and he was kicked out of the event. The lesson is to continue to innovate with our own technology and designs by utilizing the talent and expertise within Ship & Shore. This experience made us more self-reliant and a complete source of these technologies rather than subcontract work that can lead to substandard work or security issues for our clients and ourselves.
You can read full article and comment by CLICKING HERE
Ship & Shore helps manufacturers maintain compliance with complete environmental solutions for air pollution abatement and energy and heat recovery systems for maximum efficiency and cost effective operations.  Call or Email us today to see how current and coming regulations may affect your manufacturing application.  Your project may be eligible for significant  cash incentives from energy efficiency programs! Call 562.997.0233   or EMAIL us by clicking here.

Tags: air pollution control equipment, Air pollution news, Anoosheh Oskouian, Business Inspiration, carbon footprint, energy management, engineering consultants, environemntal regulations for manufacturers, environmental engineering, Environmental Industry Leaders, EPA & regulation, FTA, green manufacturing solutions, manufacturing energy rebates, Paper Film Foil Converters, PFFC, reduce air pollution, regenerative thermal oxidizer, regenerative thermal oxidizers, Ship & Shore, Ship & Shore Environmental, thermal oxidizers, VOC abatement, waste heat recovery, WPA


Categorised in: Industry news, Media, Technical, Uncategorized