Regenerative Thermal Oxidizers for the Ethanol Industry
When it comes to ethanol production, there are several different types of equipment that you can use. One such type is the Ship & Shore Regenerative Thermal Oxidizer (RTO). RTOs use an indirect heat exchange process and have multiple advantages over other methods and oxidizer brands.
What is a Regenerative Thermal Oxidizer?
A Regenerative Thermal Oxidizer (RTO) is a type of equipment used in the ethanol production process. An RTO for Ethanol uses indirect heat exchange and has three main benefits over other types of equipment.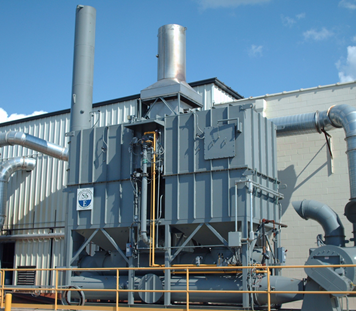 What Benefits Does an RTO Have Over Other Types?
The first benefit of using Ethanol Industry RTO is that it can work in an existing ethanol production plant with little to no modifications. The second and third benefits are related, as they both involve the level of control you have over operations.
Ethanol producers using Ship & Shore RTOs report higher quality products than those not utilizing this technology. RTOs use indirect heat exchange, which means that less liquid product is lost and the quality of products coming out is better.
The indirect heat exchange process also means a lower risk of fires as nothing comes into contact with anything hot, reducing your premium costs.
What Are Some Other Benefits?
One advantage to running an ethanol production plant with RTOs is that they are much more efficient for capital expenditure. This means less money in the long run for you as a producer and also better-quality products coming out of your operation.
How Does an RTO Operate?
The process from start to finish is reasonably straightforward. The steps are as follows:
Collecting emissions from the ethanol process
Transferring emissions and flows to an RTO where a gas burner or electric element heats it
The heating process releases energy and hot products into the product stream
The final step is for any remaining contaminants not burned or oxidized during combustion to be removed through a quench
After purging the contaminants, you have yourself an ethanol process that is of high quality and free of VOC emissions and other pollutants.
Why Use a Ship & Shore RTO?
One of the main reasons to use a Ship & Shore RTO for Ethanol production is that they are highly efficient. This means you save on costs and have a better-quality product coming out in the end. In addition, Ship & Shore RTOs are highly energy efficient, resulting in lower operating costs while keeping in compliance with air quality rules and regulations.
This process is also much easier to set up since you do not have to make any significant modifications or changes to your existing plant.
Takeaway
An RTO is an excellent option for ethanol producers. You can use this type of equipment in new plants or existing ones with little to no modifications, so it is an excellent way to improve the quality and reduce costs without having to spend too much on capital.