Direct Fired Thermal Oxidizer Manufacturer
Ship & Shore Direct Fired Thermal Oxidizers (DFTO) are custom engineered and designed to treat VOC and pollutant streams generated from industrial manufacturing process operations. DFTOs are ideal for very high solvent emissions and can handle VOC concentrations up to 50% Lower Explosive Limit (LEL).
Direct Fired Thermal Oxidizers can achieve destruction efficiencies of up to 99% DRE or higher. If the process stream has a heating value high enough to sustain combustion, then the gas stream can be repurposed as fuel gas.
Ship & Shore DFTO Applications
Ship & Shore Engineers have custom designed hundreds of DFTOs for a variety of industries over the years. Some of the recent applications from our DFTO Manufacturer Chicago and DFTO Manufacturer Montreal include:
5,000 SCFM Direct Fired Thermal Oxidizer (DFTO) for a City project in the Mid West

Complete system included a Heat Exchanger to recover about 3.6 MMBTU of heat per hour

6,000 SCFM DFTO to treat VOC emissions generated from a tar production facility
10,000 SCFM DFTO with 99.9% destruction efficiency to handle biogas process operations

Included LEL monitor, flame, and detonation arrestors for additional safety features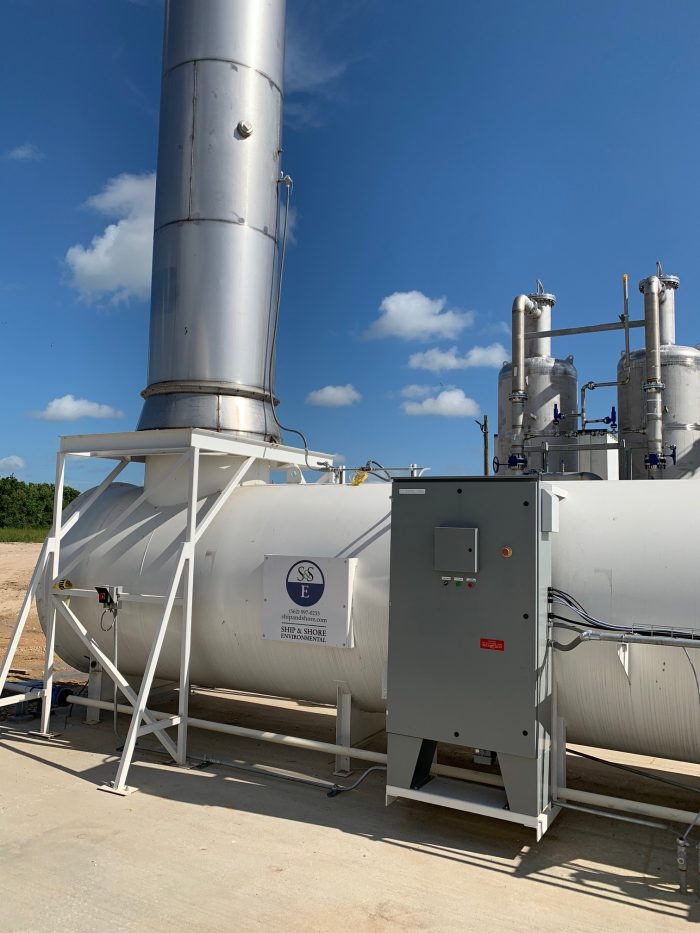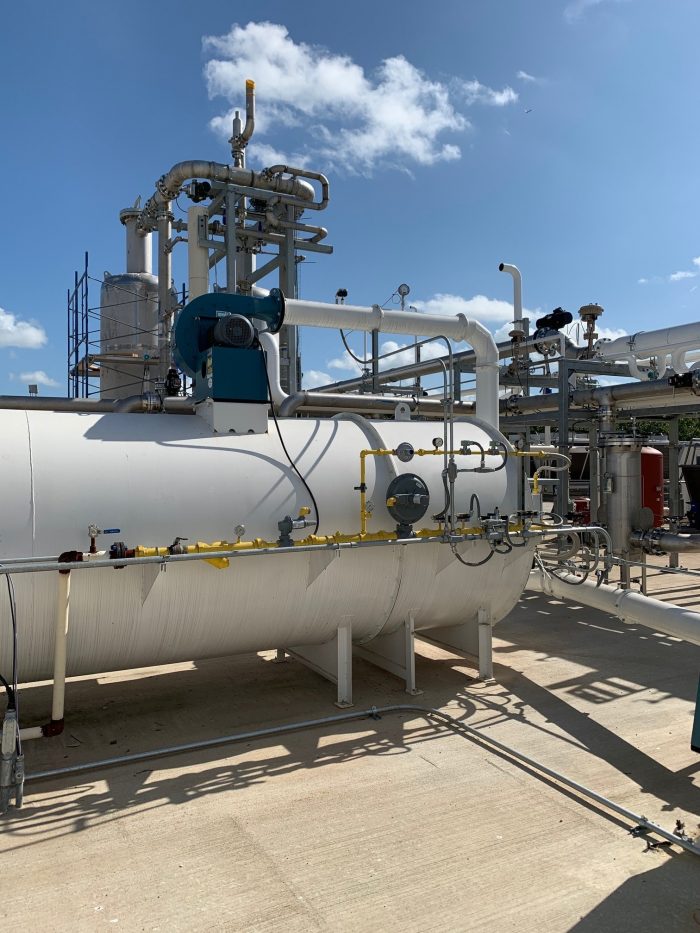 Ship & Shore 10,000 SCFM Direct Fired Thermal Oxidizer (DFTO) for a customer in the biogas industry
Direct Fired Thermal Oxidizer (DFTO) Description
A standard Ship & Shore Direct Fired Thermal Oxidizer consists of a chamber that is lined with an insulating high temperature ceramic fiber, and a burner which maintains a preset operating temperature.
The combustion chamber section in this case operates at about 1400-1500ºF. The oxidizer will be fabricated from 3/16 in. thick A36 plate with structural steel stiffeners, as required. A structural steel frame engineered to exceed Zone 4 seismic conditions will support the unit.
The combustion chamber will be insulated with ceramic fiber insulation modules. This insulation provides a durable lightweight insulation system for long life and low heat loss. The modules will be coated with a rigidizer to prevent ceramic fiber insulation from flaking off (due to air velocity), or flying out the exhaust stack.
There are adequate inspection doors on the unit for ease of maintenance and visual inspection, which is part of our standard design and not common in the industry.
The oxidizer stack will be constructed from 3/16 in. thick carbon steel plate internally insulated and provided with a dilution air stack to reduce the exhaust temperature from 1400ºF to 600-700ºF. Stack height is regulated by local building codes and is traditionally (10) ten feet above the building height.
The footprint for the complete assembly, as well as other equipment, can be reconfigured to fit any customer facility space requirements.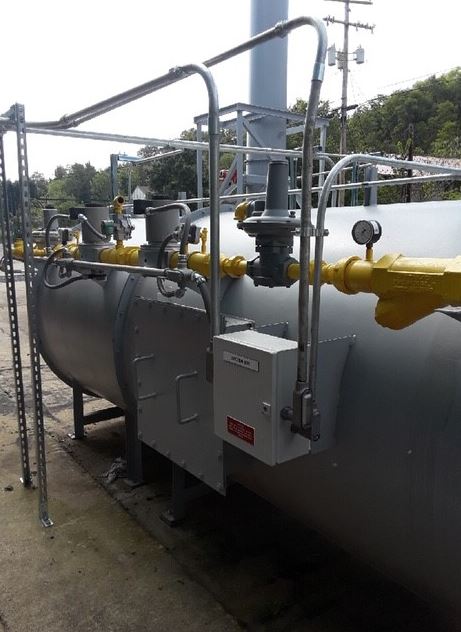 Burner and Gas Train
The burner will be equipped with a double block bleed gas train complete with pressure regulators, high/low gas pressure switches, etc. to meet NFPA 86 & FM industry standards.
Blower
The main blower will be a backward curved fan complete with flanged inlet and outlet, shaft and bearing guard, v-belt drive with guard (or direct drive), and TEFC electric motor. A variable frequency drive (VFD) for the blowers can be available.
Controls
U.L. Approved Main Control Panel & Power Panel complete with appropriate control components, safety disconnect switch, main circuit breaker, control transformer, motor starters, fuses, digital data recorder, push buttons, selector switches, pilot lights, etc. The control panel will be suitable for indoor installation in a non-hazardous location. A junction box will be mounted at the oxidizer for local instrument terminal tie-in.
An integrated VPN is available as an option to allow for remote "real time" assessment by S&SE engineers and technicians of TO operation, alarms, temperatures, etc.