Solvent Distillation Technologies
Helping Manufacturer's Meet Environmental Regulations
A Regenerative Thermal Oxidizer RTO from Ship & Shore Environmental meet the most stringent air pollution abatement regulations.  Our RTO systems and industrial thermal oxidizers lead the emission abatement technology market by using state-of-the-art engineering to repurpose the thermal energy created during operation, resulting in lower costs and less energy consumption.  Our expert team of engineers can help your company improve Regenerative Thermal Oxidizer Efficiency, performance, reduce greenhouse gases and eliminate regulatory issues.
If you use solvents in your operation you already understand the significant cost, liabilities, and environmental impact associated with purchasing additional chemicals and disposing of spent solvent. Solvent recycling is a time-tested way to limit liabilities, reduce greenhouse gases, all while saving significant money.
CleanPlanet offers the industry's most advanced, easiest to use, and safest means of producing virgin-like quality solvent from your waste. Their line of smart solvent distillation units with patented PrecisionDistillation™ technology optimally integrates with any production environment.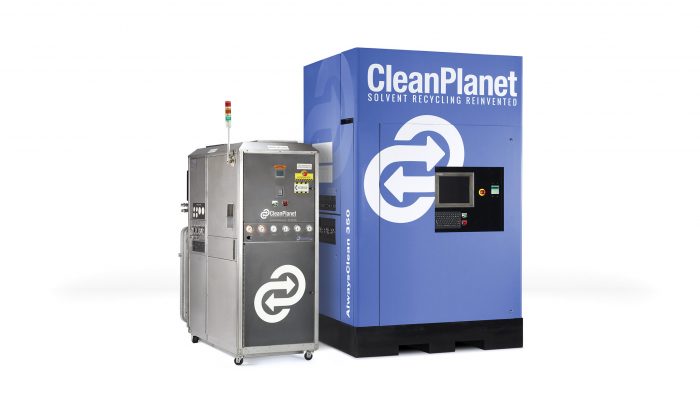 Built into CleanPlanet's solvent recycling systems are the latest advancements in recycling technology. Control algorithms monitor a multitude of sensors to automatically recycle your waste. In fact, their solvent recycling equipment requires less than ten minutes a day of your attention. Internal, automated Quality Control technologies prevent any contamination or discoloration, and ensure you're recovering as much material as possible.  Diagnostic data is continuously sent to our Athena web portal, enabling CleanPlanet's engineers to monitor and optimize your recycler 24/7.
CleanPlanet makes it easy to implement their solvent solutions no matter your situation, and with their Service365  program you no longer have to worry about installation, maintenance & repairs, training, or upgrading your unit. Whether you're generating 5 gallon or 2,000 gallons of waste per day, they have a solvent recycler to meet your needs.