REGENERATIVE THERMAL OXIDIZERS FOR PAINT & SURFACE COATING
Paint and coating manufacturers are constantly faced with challenges brought forth by consumers, regulatory agencies, and the industry as a whole. Finishing standards must be high quality and durable, as well as environmentally friendly to minimize any harmful emissions to the air.
Ship & Shore Regenerative Thermal Oxidizers (RTO) serve as a widely used and inherently valuable solution for Volatile Organic Compound (VOC) abatement for the paint and coating manufacturing industry. Ship & Shore focuses on providing customized solutions that help the industry stay in compliance with air quality rules and regulations without compromising on quality finishes.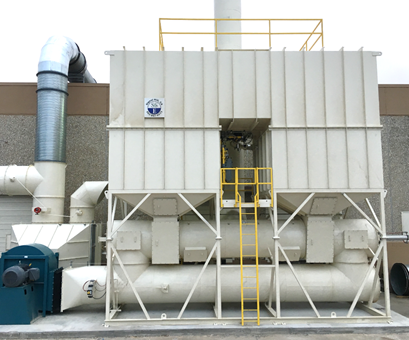 WHERE DO VOCS COME FROM?
VOCs are present in various sources of the paint and coating industry. Within spray booths, careful assessment is put into being able to maximize paint coating applications, as well as ensuring any personnel are protected by the hazardous toxins that naturally come from using spray equipment. However, we must also consider where those toxic emissions go during and after the coating application is completed.
VOC emissions are continually found as a natural byproduct of this coating work, and as such, must be controlled before they are released into the atmosphere and contribute to ground-level ozone. The EPA defines this as an ozone precursor and has strict regulations against that as defined in local air quality standards. The most typical areas VOC emissions are found include:
Paint applications, primarily from the exhausting process used to ventilate spray booths
Storage tanks and paint storage environments, over time, VOCs can be released
Paint mixing – exposing these chemicals together can naturally contribute to the release of VOCs
Bake oven exhaust and curing ventilation – due to the production volume afforded by these systems, this can be a heavy contributor
Fugitive emissions – pockets of VOCs within a facility that must be captured as they are potential fire hazards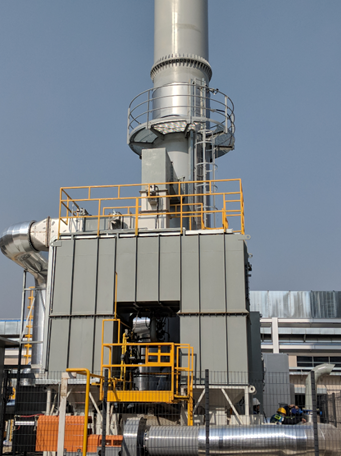 HOW DOES AN RTO WORK, AND WHY IS IT WORTHWHILE?
A Ship & Shore regenerative thermal oxidizer (RTO) is continually affirmed to be one of the most cost-efficient, thermally effective, and long-term VOC abatement solutions. Ship & Shore RTOs can be custom engineered and designed to a particular production and application. Proper VOC Collection System ducting and design is a crucial part for 100% compliance. Ship & Shore engineers will ensure proper design of ductwork and enclosure hoods used to capture the VOCs from the process. For some instances, manufacturers may require a Permanent Total Enclosure (PTE) solution to ensure the maximum volume of emissions are captured year-round.
Ship & Shore RTOs are designed for over 95% thermal efficiency and allows for a clean, effective, productive, and ultimately environmentally friendly process to take place.
With over 20 years of experience engineering and designing complete pollution control solutions for various paint and coating manufacturing facilities, Ship & Shore Engineers are also able to assist companies in overall plant and process optimization while keeping operations in compliance with local and state air quality rules and regulations.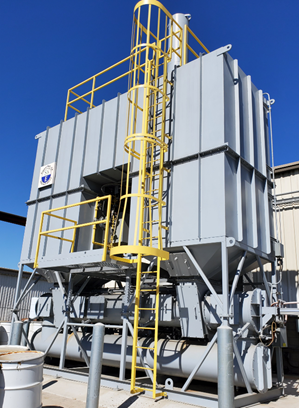 WHY SHIP & SHORE ENVIRONMENTAL?
Ship & Shore Environmental are renowned providers of regenerative thermal oxidizers for paint & surface coating, offering our products for a range of valued industries, including surface finishing and pharmaceutical.
We deploy the latest technologies to meet emission values and to enhance efficiency.
We are among the leading RTO manufacturers around the globe, providing and combining years of dedicated experience and ever-evolving standards to our process. We understand that no two applications are the same, and no two production facilities are the same, meaning that we are happy to talk with you about providing a custom-fit and optimally efficient RTO design, maintenance, and installation.
The following systems are only a fraction of the customized solutions Ship & Shore has provided for the paint and coating industry:
20,000 SCFM Ship & Shore RTO for a spray booth application for a renowned musical instrument manufacturer
10,000 SCFM RTO and Concentrator System for paint and coating facility in China
7,500 SCFM RTO for spray booth application
35,000 SCFM RTO for a surface coating application
Our air pollution abatement goals help define everything we do, including educating professionals regardless of the industry via our blog and educational materials.