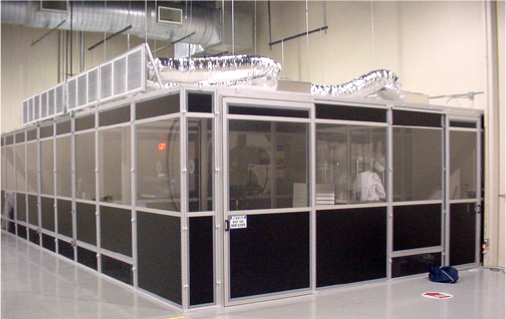 December 20, 2016 12:28 pm
Permanent Total Enclosures (PTE's)
100% VOC Capture 
Permanent Total Enclosures (PTEs) are a highly effective way to prevent fugitive process emissions from entering the atmosphere.
By completely surrounding the emission source, the process emissions can be minimized and concentrated for more cost effective destruction in a VOC control device.
PTEs can be effective for new or pre-existing systems and are used in a wide variety of applications especially when a toxic environment risks the health of your employees.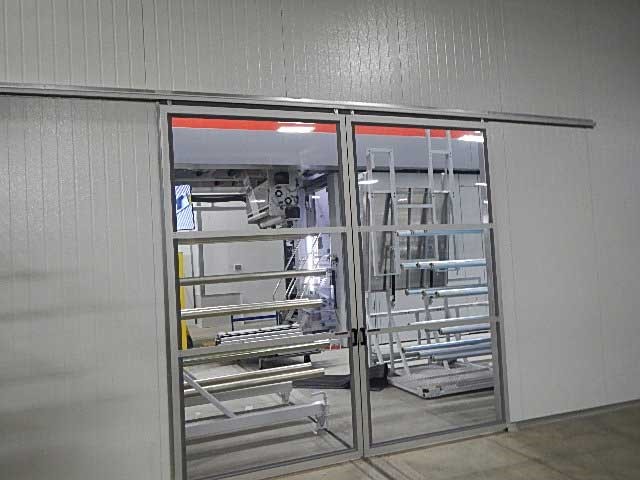 Permanent Total Enclosures (PTE's) Design Criteria – EPA Method 204
A permanent total enclosure (PTE) surrounds a production device to capture up to 100% of fugitive air pollutants within the enclosure. An enclosure may qualify as a PTE by following these criteria:
Areas of openings: The total area for all natural draft openings shall not exceed 5% of the surface area of the enclosure's four walls, floor and ceiling.
Flow rate into enclosure: The average facial velocity (FV) of air through all NDOs shall be at least 3,600m/h (200 ft/min – this equates to a negative pressure difference of 0.007" of water column). The direction of air flow through all NDOs must be into the enclosure.
Access door/windows: All access doors and windows whose areas are not included in item 2 are not included in the calculation in item 4 shall be closed during routine operation of the process.
Emission capture: All VOC emissions must be captured and contained for discharge through a control device.
Targets specific process emissions that must be treated, minimizing ambient air dilution
Reduces capital investment and operation costs by decreasing concentrated air volume
Reduces air volume that requires abatement
Less natural gas consumption
Capture hood and floor sweeps
Completely surrounds the source of emission
Prevents fugitive emissions from entering the atmosphere
Improves the work environment
At Ship & Shore Environmental we focus on each facility's unique process design to attain a superior solution based on needs and available space. We can use existing permanent walls, strips curtains, insulated wall panels, and/or other materials to meet installation budgets.
Our experienced engineering team will work with the plant personnel to map each VOC emission source and identify the best location for collection, which may include design of hoods and floor sweeps.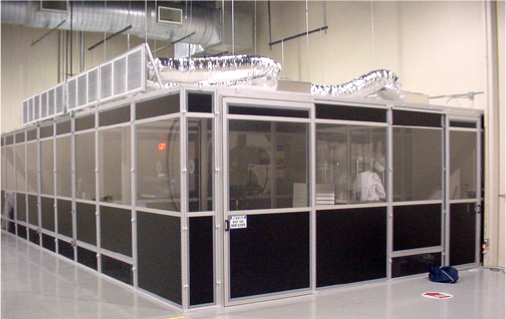 S&SE provides custom designed permanent total enclosures (PTE) for a wide variety of applications. as a part of turnkey oxidizer installation project or upgrading of existing system. In the United States regulations require overall VOC control systems to maintain 90% efficiency or more for many industries. For many application floor sweeps & capture hoods are not sufficient tools to achieve this level of control. A state-of-the-art VOC control system such as a PTE is required to meet federal & state regulations.
The following five criteria, established by the EPA under test Method 204, must be met for an enclosure to qualify as a PTE.
Any natural draft opening (NDO) shall be at least 4 equivalent opening diameters from each VOC emitting source. An equivalent diameter is equal to the diameter of circle that has the same area as the opening.
The total area of combined NDO's shall not exceed 5% of the total surface area of the enclosure including the floor and ceiling.
The average face velocity (FV) of air through the NDO's shall be at least 200 ft/min and the direction of flow shall be into the enclosure.
All access doors and windows not included as NDOs shall be closed during routine operation of the process.
All exhaust gases from the enclosure must be directed to a control device.
*Most state and local regulatory agencies have adopted these criteria as a basis for PTE design.

Tags: air compliance permits, air pollution abatement, air pollution control, air pollution control equipment, energy management, EPA & regulation, Permanent total enclosures, PTE, ptes, voc, VOC abatement


Categorised in: Air pollution, Industry news, News, News, Ship & Shore