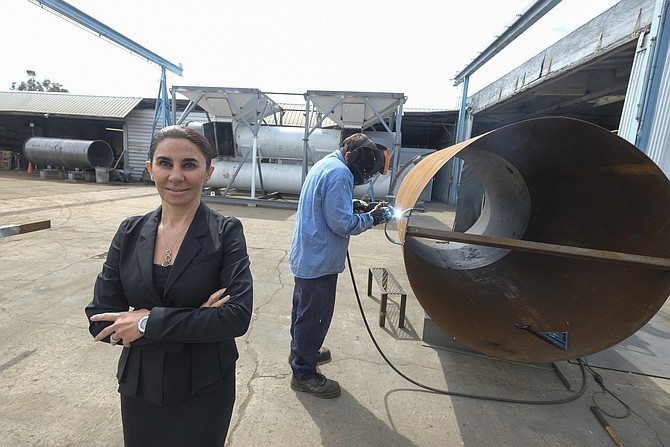 May 5, 2020 12:18 pm

Risks and Rewards
Oskouian likes her chances when it comes to growing Ship & Shore
By Howard Fine
Monday, March 30, 2020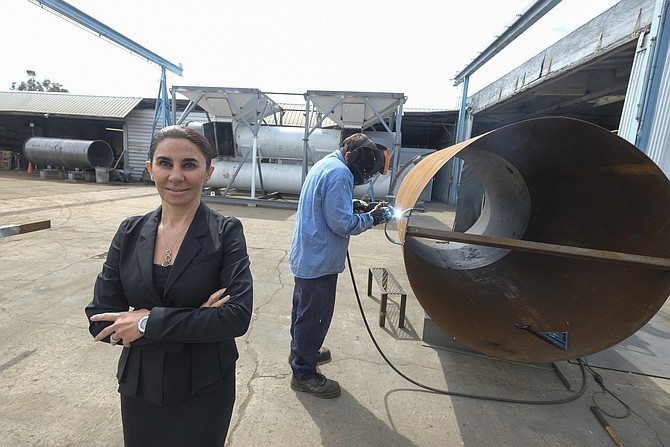 Anoosheh Oskouian, co-founder of Ship & Shore Environmental. (Photo by Ringo Chiu). Photo by Ringo Chiu.
The chief executive of Signal Hill-based pollution control device manufacturer Ship & Shore Environmental Inc., Anoosheh Oskouian, has taken risks her entire life.
As a 14-year-old girl in Iran in 1978, she convinced her father to let her travel alone to the United States to stay with cousins in Colorado and continue her education.
Oskouian would go on to complete her schooling, graduate from the University of Colorado Denver and become a chemical engineer.
Some 22 years later, when the owner of the Long Beach sheet metal manufacturer and ship repair firm where Oskouian worked decided to move on to other things, she took another big gamble.
Oskouian emptied her 401(k) and, with co-worker John Von Bargen as her business partner, purchased the company and converted it to design and manufacture industrial air pollution control devices.
Ten employees stayed through the transition, and they all had to learn to build the devices.
"I wanted to make something that I believed would help improve the environment and the planet," Oskouian recalled.
She and Von Bargen kept the name of the sheet metal company, Ship & Shore. Eventually they added "Environmental" to the moniker to make it easier for potential clients to understand the company's focus.
Oskouian was one of the few women at that time to head an environmentally focused business.
Von Bargen, who handled many of the company's technical design aspects as vice president of engineering, left his full-time role five years ago. But he remains a consultant to the company, helping to train new engineers.
Customized pollution control
Today, Ship & Shore has 90 full-time employees and pulls in between $20 million and $25 million a year designing and making a range of air pollution control devices.
The company's industrial clients include petrochemical plants, foam and packaging companies, coatings manufacturers, and print shops.
The devices range from the smokestack scrubbers that commonly come to mind for pollution control devices to thermal oxidizing units that chemically convert air contaminants into less harmful gases.
The company's business is largely driven by government regulations that place limits on chemical contaminants that can be emitted into the air.
Many of Ship & Shore's clients are based in Southern California where a good number of those regulations come from — and are enforced by — the South Coast Air Quality Management District.
As environmental standards get more restrictive, industrial companies must turn to pollution control devices to meet them.
When companies open new manufacturing or processing facilities, they also must have the latest pollution control devices installed in order to obtain operating permits.
Oskouian said that when Ship & Shore gets a new client, the company first does an assessment of the industrial facility to determine what specific pollution control technology is needed to reduce the air contaminants.
Those pollutants are usually classified as volatile organic compounds — or VOCs — such as acetate, benzene, formaldehyde or methane. Ship & Shore engineers also look at requirements from the local pollution control authority to determine target emissions levels.
Once the assessment is complete, Ship & Shore engineers design a customized pollution control device that is then manufactured at its in-house plant and shipped to the customer.
But Ship & Shore's work doesn't stop when the device is installed. The device most often needs periodic monitoring and maintenance, which requires Ship & Shore workers — either in-house or on contract — to make visits to the industrial client.
"It's all part of our mission to be a one-stop shop pollution control equipment company," Oskouian said.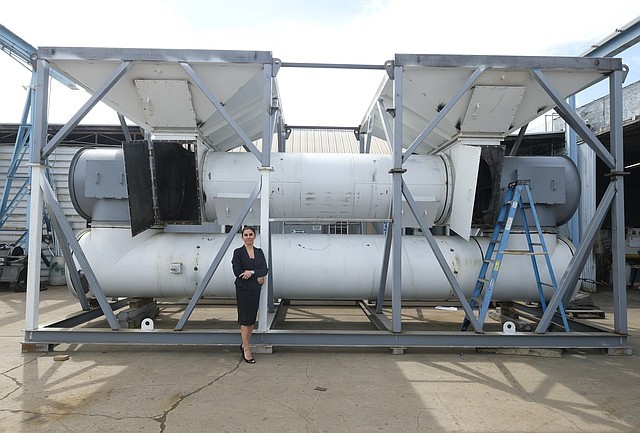 Small firms reign
The company operates in an industry that is dominated by small firms similar in size to Ship & Shore, according to Grant Ferrier, founder of the industry- focused publication Environmental Business Journal and chief executive of San Diego-based consulting firm Environmental Business International Inc.
"Sure, giants like Siemens or General Electric or Mitsubishi all have units that make pollution control devices, but even those generally remain small operations within the larger companies," Ferrier said.
"It's an industry that generally has to focus on the specific pollution control needs of individual clients rather than mass-producing devices that can be snapped into place," he added.
Each pollution control device is custom tailored to the needs of each client, Oskouian said. "It's the engineering and design work that's key — getting in there and figuring out exactly what needs to be done to meet the pollution reduction target," she said.
Asia push
Ship & Shore Environmental recently embarked on another venture that entails some risk: an expansion into Asia that began a few years ago when some of the company's U.S. clients opened plants there.
The operation hit full stride late last year with the opening of Ship & Shore's first overseas manufacturing plant just outside Shanghai.
Two months after opening in January, the plant faced its first serious obstacle: near closure as most workers were forced to stay home because of the outbreak of the novel coronavirus.
"We're now finally back online at full capacity after two months of operating at greatly reduced capacity," Oskouian said in mid-March.
She sees great opportunity in Asia for pollution control devices.
"China and the other countries in the region are at the same place when it comes to air pollution control that the U.S. was in the 1980s," Oskouian said. "But the air pollution problems there are much more severe, and the market (is) so much larger."
But the move into Asia comes with some risk, Ferrier said.
"Regulatory and environmental drivers for the industry there can change very rapidly with a change in government," Ferrier said.
Oskouian is aware there are risks, but that hasn't slowed her. In fact, she has already set her sights on her next target: India.
The country has only begun to tackle its air pollution problems in recent years, and the capital city of New Delhi is often shrouded in smog so thick it can be detected from space.
"India has been very slow to address environmental problems," Oskouian said. "But now companies there are becoming more sustainability focused and environmental focused."
And that, Oskouian believes, bodes well for Ship & Shore.
news