INTRODUCTION
Ship & Shore Environmental, Inc. was consulted by a company that manufactures Expanded Polystyrene (EPS). Targeted by multiple environmental regulations by the EPA, this EPS company turned to Ship & Shore to design a dynamic VOC abatement system in order to curb or destroy their emissions.
As a leading technology provider, Ship & Shore Environmental specializes in VOC abatement from EPS operations and other manufacturing processes. EPS is made by polymerization of styrene which is essentially a lightweight rigid foam material. Expanded Polystyrene is a reliable material which is being utilized in many engineering and construction applications overthrowing the conventional, time-consuming heavy materials and methods.
BACKGROUND
The initial blowing agent employed is pentane which is the VOC that requires abatement. Typically, a blowing agent content of EPS beads is 3.5 to 6.5% of Pentane by weight.
EPS operation typically requires customized emission control systems to handle the high VOC concentrations that emanate from raw material, container opening, pre-expansion, aging, molding and storage processes of production.
SOLUTION
Upon evaluation by our experienced engineers at the client's facility and process information, S&SE designed a 10,000 scfm Regenerative Thermal Oxidizer (RTO). The unit was custom engineered to fit the customer's requirements based on their process, production, hours of operation and the amount of VOCs they were emitting. All systems manufactured at the Ship & Shore facility are exclusive and custom made for our customers with respect to their needs.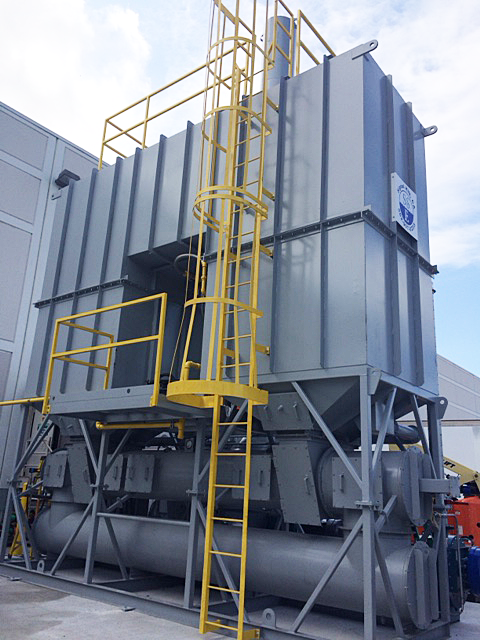 The 10,000 scfm Ship & Shore RTO was designed to provide 98% VOC destruction at an operating temperature of 1500°F that produced 209 lb/hr of pentane. The RTO consists of two insulated media chambers where the EPS process exhaust passes through the ceramic beds in the chamber which has 95% thermal effectiveness to capture the heat from the contained combustion process. Therefore, the natural gas usage to operate the RTO will be minimal. Also, in many cases the RTO is self-sustaining which means the RTO requires no natural gas consumption to operate.
The unit includes a specially designed switch type poppet valve, an integral component of the system, which helps provide a thermal efficiency of 95%. This poppet valve is designed by one of our most experienced engineer having served this industry for more than 30 years. Poppet valve switches the air flow alternatively to both the media chambers utilizing both heat recovery bed completely, thus providing maximum efficiency.
Excess heat from the main exhaust stack was captured by the heat exchanger and was re-directed to the heat bag room or drying room. Quite often this heat energy captured from the main stack is also used to comfort heat the facility especially during winters. The use of heat recovery media chamber and heat exchanger helped the customer save a significant amount of operating costs.
S&SE was able to capture maximum fugitive emissions from the process providing maximum efficiency, thus helping the company lead to a cleaner and greener environment.
CONCLUSION
Ship & Shore Environmental is involved with the EPS industry on many levels. First, as an engineering partner, providing advice and technical support to our clients when air regulations need to be addressed which may include meeting with regulators. Second, as an equipment provider, we develop technical solutions that will meet VOC collection requirements, abatement regulations, as well as safety concerns. Safety concerns are Ship & Shore's number one focus.
Ship & Shore has been designing and fabricating VOC abatement systems for the EPS industry for many years and has served over 85% of the companies in the EPS industry. Each abatement system is custom designed to meet the unique requirements of each facility and the local air quality requirements. We strive for the best available technology for each application, rather than forcing one system over another based on our product line. By doing so, we always keep safety, economics, as well as feasibility of a system in mind before we make a recommendation.